A huge range of top performances this weekend from the Lindsay's Scottish Masters Cross Country Championships in Aberdeen to Commonwealth Games qualifications.
Indoor Athletics
At the invitational meet before the DNA Athletics at the Emirates, Jenny Selman (Fife AC) claimed the World Indoors and Commonwealth Games standard with yet another PB which stands at 2:00.70. Shortly afterwards, Selman then went onto win the women's 800m at the DNA Event and claimed full points for the Scotland team.
There were also fantastic performances from the likes of Alisha Rees, Allan Hamilton, Murray Fotheringham and Emma Canning.
More info on the DNA and Invitational event here
Cross Country
There were some top performances at the Lindsay's Scottish Masters Cross Country Championships at Balgownie playing Fields in Aberdeen on Saturday. The Masters M40 was hotly contested with Ewan Cameron (Edinburgh AC) who recently ran a 2:19 marathon in Valencia, taking the win over the 8km course in 26:20. Commonwealth Marathon runner, Ross Houston (Central AC) was second in 26:31 and his clubmate Scott Brember was 3rd overall and 1st M45 in 27:06.
After their stunning world indoor records last weekend, Alastair Walker (Teviotdale) and Fiona Mathieson were was back racing and duly claimed the M65 title and W60 title respectively.
In the W40's race, Michelle Sandison (Springburn) won the title, in 23:02 for the 6km course, with Lesley Bell (Garscube Harriers) taking 2nd overall and 1st W45 in 23:04 and Carol Parsons (Dundee Hawkhill Harriers) in 3rd overall – just 5 seconds separating the top 3.
One of the standout performances, must be Metro Aberdeen's Les Nicol (featured image) who celebrated his 86th birthday to take the M85 gold.
Full Results Here
There was some fine runs in what could be said is a true cross country course in brutal conditions at the North District Cross Country League in Nairn. In the senior woman's race, Highland Hill Runners club member, Kirsty Rogan (pictured) secured another commanding performance to take the win ahead of Moira Davie (Forres Harriers) followed by Caroline Marwick (Highland Hill Runners). In the senior men's race, Kenny Wilson (Moray Road Runners) continued his dominance with a clear margin over John Newsom (Inverness Harriers), with Kenny's brother, James Wilson (Moray Road Runners) taking 3rd place.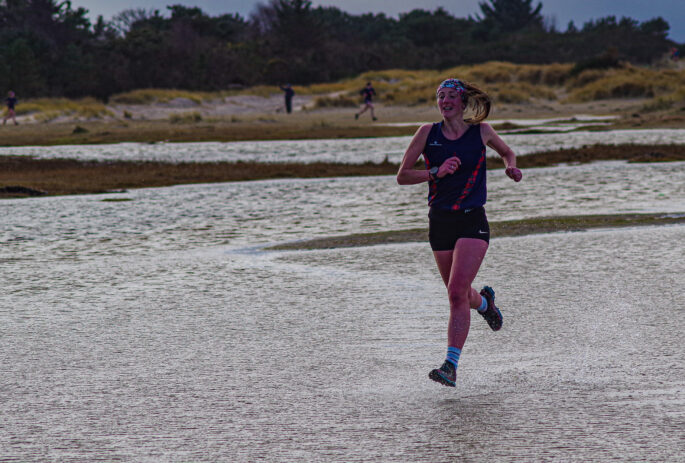 Full Results Here
There were some great performances at the BUCS Cross Country Championships in Middlesex on Saturday and the stand out performance was Megan Keith (Inverness Harriers/Edinburgh University) taking the Bronze medal. Other notable performances included Megan's clubmate, Hollie Page who placed a solid 5th, Sarah Tait (Stirling Uni) came 16th and Hannah Anderson placed 27th. That meant that Edinburgh University landed the bronze team medal. In the men's side, stand out runs were Hamish Hickey (Stirling Uni) who found himself in the lead but faded to a respectable 11th place.   Christian Graham (Dundee Uni) was 17th with Peter Molloy (Cambridge) and Max Abernethy (Aberdeen) at 23rd and 24th.
International Races
Andrew Butchart (Central AC) broke his own Scottish indoor record in the men's 3000m with a time of 7:37.42 with Jake Wightman (Edinburgh AC) taking 13 seconds off his previous indoor PB with a time of 7:37.8.
Joe Ewing (Edinburgh AC) who now studies Economics at the University of Harvard, dipped under the elusive 4 minute mile for the first time in Boston with a time of 3:58.87
Scottish Ultra Running
The Falkirk Ultra 33 took place at the weekend and the overall win went to Stuart Johnston  (Carnegie Harriers) in 3:52.47 with GB 24 hour internationalist, James Stewart (Pyllon) making a welcome return to racing finishing in 2nd in a time of 4:01:35. Elliot Sedman (Carnethy Hill Running Club) took the 3rd place in 4:22.00.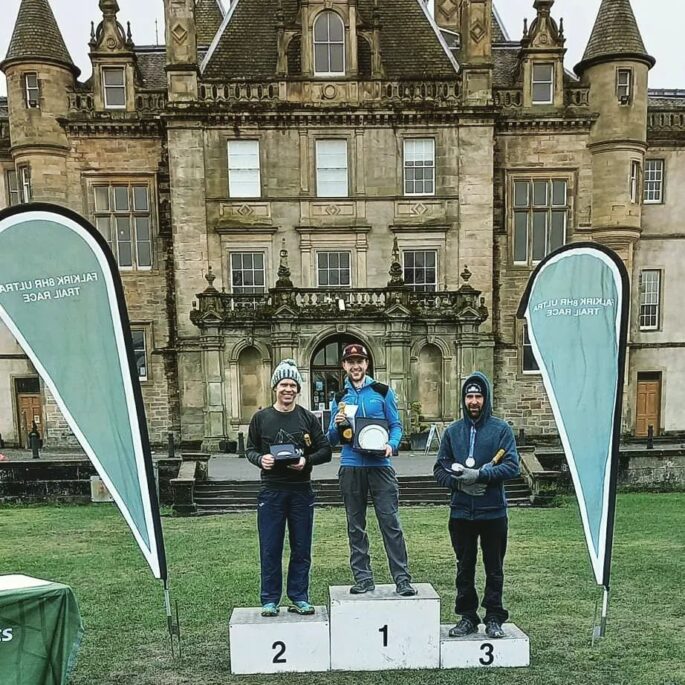 In the female event, it was Tanya Shields (Edinburgh AC) who secured a comfortable win in 4:46.19 , followed by Lynsey Parker (Maryhill Harriers) in 5:26:06 and 3rd place was Susan Wilminski in 5:34.50.
Upcoming Events
If you feel there is anything that we have missed or would like to include in this weekly article, then please let us know!